Lefties feel discriminated against at several points in their life, but would you believe it if we told you that most left-handers spend their academic lives without ever sitting on left-handed desks at educational institutions? One of the biggest reasons this happens is that school and college campuses lack left handed school desks or the unbiased flair desks that lefties require to study and write efficiently.
As a result, most lefties complain about back pains, slow writing speed, and even put up with accusations of cheating on tests and exams. Unlike other types of discrimination and biases in this world, this one is relatively minor and can be fixed with quick solutions. What's more troubling is that according to a study by LeftHandedChildren.org, only 10% of students reported receiving any form of help pertaining to their left-handedness. First, let's take a look at all the reasons why schools, colleges, and other institutions should consider investing in left-handed desks for their students.
Problems of Left Handed Students
Most educational institutions don't consider investing in left-handed desks because they overlook the importance and the significant impact they can have on lefties. Society often ignores left handed struggles and concerns and lefties are repeatedly denied basic instruments, such as left-handed scissors for kids, desks, and even pens, at their educational institutes.
As a result, they often face several issues, including medical concerns, slow writing speed, and the inconvenient placement of left-handed desks at schools and colleges. They may even find some classes with exclusively right handed desks.
Medical Issues
Left-handed students typically have complaints of back, neck, hand, and body pains. The primary reason these concerns exist is that when forced to write on a right-handed desk, lefties have to twist and turn their arm and body. The contorted posture leads to discomfort, and it's awkward, to say the least. Reading and writing in this position leads to several medical conditions, including body aches.
Additionally, the lack of space available on right-handed school desks for lefties forces them to write in a converted or hooked position, where they have to bend their wrist or arm in an awkward position to write. This is the opposite of what kids are taught when learning to write left-handed.
Problems with Timed Tests
Timed tests are another aspect of student life lefty students face issues with because of the biased desks. Owing to the awkward position that lefties are forced to write in, their writing speed is slowed. The slowed writing can lead to late submission of tests or keeping up with the pace of the rest of the class members. As if this isn't enough, their writing position also adds suspicions in the minds of their teachers that the lefty is cheating.
The right-biased tablet chairs for classrooms also don't offer any support to lefties' arms while writing, forcing them to keep their arms mid-air while giving a test. If you're a lefty – or know someone who is left-handed – and are facing issues with timed tests, you might need to bring your concerns to the school authorities before you take the test.
Placement of Left handed School Desks
As if the timed test and medical problems weren't bad enough, schools that do consider purchasing left-handed desks often do so on a percentage basis. This means that the school has allotted a specific number of left-handed desks in their institution without considering the actual number of lefties in schools. The schools purposefully keep fewer left-biased desks, forcing lefties to suffer in some of their classrooms, if not all of them.
Seating arrangements for single desks with an attached arm are rarely taken into proper consideration. The left-handed desks are often placed in the corner-most area of the room or at the very end, which limits the lefties' option to choose where they want to sit. This means that despite the students' height or preference, they are forced to sit in areas of the classroom where concentrating on studying gets highly challenging.
The desk is often placed next to a right-handed desk, which means there's every likelihood that elbows will be bumped frequently.
Solutions
The following are some solutions for left-handed students whose educational institute might not have adequate or even any left-handed desks.
If you're sitting beside an empty desk, you can use that as the tablet surface under your arm.
Schools should invest in straight desks, which are typically shared by more than one student and can be used by both lefties and righties.
Educational institutes should invest in at least 20% left-handed chair desks and place them in easy-to-find spots throughout the classroom. Left and right handed school desks should be placed with ample space between them so that opposing elbows don't get bumped.
What is a Left Handed Desk?
Left-handed desks, or return desks, are L-shaped desks that have a narrow surface placed on top of a support arm on the left hand side while the rest of the surface bends to the right to form a writing surface in front of the person. A lefty would be able to comfortably place their left arm on the support surface while writing.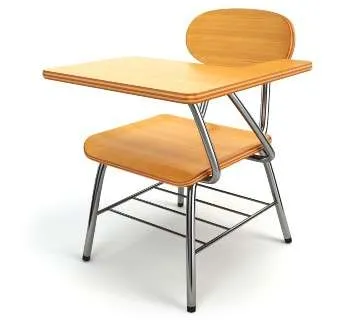 Some left-handed desks have a set of drawers for support underneath the hand side to provide some storage space for files and books. These are often found in offices and can't be moved, unlike school desks.
A left-handed school chair with arm desk, in terms of pricing, size, weight, materials, and design, is similar to a right-handed desk.
Best Left Handed Student Desks
The following are some of the best left-handed student desks. Let's take a look at what features they entail and how they compare to one another:
Flash Furniture Ergonomic Shell Chair with Left Handed Flip-Up Tablet Arm
Made with metal form and a plastic seat, the Flash Furniture Ergonomic Shell Chair with Left Handed Flip-Up Tablet Arm has a seat height of 17.75 inches, while the total product dimensions are 33.13″ depth x 26″ width x 21″ height. The multi-purpose desk can be used in an office or school setting. The ergonomic design, including a ventilated design and seat, makes the experience pleasant and comfortable for lefties.
Additionally, the metal gauge comes with electrostatic paint and even non-slip caps to ensure safe and efficient use both outdoors and indoors. These desks can be stacked on top of each other, making for convenient storage and can support approximately 880 lbs. of weight.
The tablet chair's compact design doesn't take too much space either and is available in various colors. Despite the mentioned height and weight limit, it's suitable for children or short heighted adults only and many adults who have used this chair complain it's not ideal for them.
Unlike the first option, this Flash Furniture Premium Steel Folding Chair with Left Handed Tablet Arm has a foldable design, making it easy to carry around. Additionally, this chair is also available in packs of two and two different styles, including design options for lefties and for righties. In addition to the foldable chair design, the left-handed tablet arm is also foldable, courtesy of the double-hinged elements.
The overall product dimensions are 18.5″ width x 20″ depth x 30″ height, while the seat is approximately 15.7 inches, which is shorter than the last option we've reviewed. However, it is relatively heavier than the Flash Furniture Ergonomic Shell Chair with Left Handed Flip-Up Tablet Arm (10 pounds), with this one weighing about 15 pounds.
This could be due to the additional hinged elements, finer quality steel, or because this option contains leather coating over the left-armed tablet. This option also includes back ventilation, but there are no drainage holes in its design like the first option we've discussed. It also supports approximately 500 lbs of weight. However, since this option's seat height is relatively shorter, we don't believe it'll be suitable for adults either.
Flash Furniture Mobile Desk Chair with Tablet Rotation and Under Seat Storage Cubby
The Flash Furniture Mobile Desk Chair with 360 Degree Tablet Rotation definitely stands out more than the previous two options with its exceptional ergonomic design, adding several additional features that were lacking in them. First, let's take a look at the common elements it shares with the two other chairs we've reviewed.
This option contains both drainage holes and back ventilation, like the Flash Furniture Ergonomic Shell Chair with Left Handed Flip-Up Tablet Arm and also doesn't include a foldable chair or tablet design. Its seat height is also closer to this option, reaching 20 inches in total.
However, compared to the two other options, this chair has a weight capacity of only 265 lbs. The overall product dimensions also differ, with this option's dimensions totaling 28.5-45″ width x 27-43.5″ depth x 34″ height. Its total weight is about twice the weight of Flash Furniture Premium Steel Folding Chair with Left Handed Tablet Arm, reaching a whopping 33 pounds.
Coming to the elements that made this option stand out the most, this chair comes with six heavy-duty wheels, which will allow you to rotate the entire chair and move it around without having to get up. In addition to the 360-degree wheels, the seat also rotates independently of the base. The tablet arm can also rotate at 360 degrees, adding multi-purpose functions to this product. There's also a storage compartment under the seat where you can store books and belongings weighing a total of 22 lbs.
Take a look at the following table for a quick overview of these three products: