Like most commonly used tools available in stores, gardening tools are also designed mainly for the dominant customers, right-handers. At first glance, you might think a regular hoe or pair of shears could be used by a lefty. But left-handed users will tell you of the difficulties and dangers of using tools as big as shears or even as small as hand pruners, where the blades are arranged for right-handed use, forcing you to apply more force or flip them around to use them. This can cause you much harm if you lose your grip, and in general, can cause discomfort to your hands.
Weeders and Japanese garden hoes are also common garden tools that lefties will find impossible to use with their dominant hand and be forced to use their right. Fortunately, there are specific left handed garden tools these days, and by reading this article, you will be provided with a list of some of the best garden tools for left handed people and their benefits over right-handed tools.
What Makes Left Handed Gardening Tools Different?
Gardening tools for left-handers are designed to suit their handgrip and the angle from which the hand exerts pressure. Just like how lefties can't use right-handed tools, the same goes for the other way around.
Take right-handed hand pruners for example. The blades are arranged in such a way that it is only usable when used by a right-hander, with the handle being pressed down from a particular angle. The grip is also designed for a righty. A lefty can't use the same pruners due to these reasons, and so, a different design is required for lefties, which for some tools, is an exact mirror image of the right-handed tool. Since pruners are particularly cumbersome if used by the wrong hand, they're the easiest to find in left-handed versions, therefore we have a separate article about the best left-handed garden pruners available.
Left Handed Grass Shears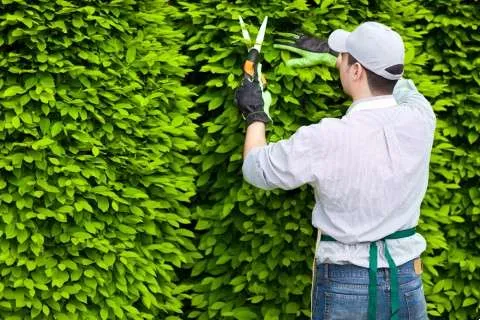 Grass shears are a tool used to trim grass, long or short when a string trimmer would run roughshod over the areas that need more precise trimming. There are 2 types of hand grass shears manufactured; 1 with the blades aligned with the handle, and 1 with the blades horizontal and perpendicular to the handle. The type with vertical blades allows for trimming the edges of grass easily as well as trimming hedges, whereas, with the horizontal blades type, you can also trim very short grass and an overgrown lawn.
Though both types are suitable for right-handed use, only the shears with horizontal blades can be used equally well by a left-hander, as the handle with an up and down mechanism is suitable for both hands. The vertical type must be designed specifically for left-handers so that the blades are set to a mirrored image of a regular pair, like a pair of left-handed scissors.
If you're looking for a good pair of left-handed grass shears, here's a quick overview of the best ones available.
Fiskars 392290-1001 Grass Shears
These Fiskars grass shears are suitable for both right and left-handed people, as the blades are perpendicular to the up-and-down motion handle. It comes with 4 and a 1/2 inch blades which remain sharp till the tip, allowing for finer trimming and edging. The handles, made of strong aluminum, ensure a lighter weight compared to other grass shears, which is ideal for lefties. The handles are also well gripped, with a non-slip lower handle. A handle lock helps keep the blades safe and protected whenever being transported.
Though its steel blades are advertised as having great resistance to rust, if the shears are used on slightly wet grass and the blades are not immediately wiped, it may cause rusting after a few days. The shears also come with a lifetime warranty if any major issue should arise and prevent you from cutting your grass. Overall, a very convenient pair of shears for lefties. 
Pros
Suitable for right and left-handed users.
Lightweight shears.
Sharp till the tip.
Cons
Blades may rust sooner than expected if left wet for too long.
Q-yard QY-741F Flower Bed and Grass Shear
Another one with horizontal blades, these Q-yard grass shears are also efficient for both righties and lefties. Along with serrated edged blades for better grip on grass while cutting, its 5 inch blades are also made out of carbon 50C steel with a non-stick PTFE coating for durability. Sharp till the tip, the blades are perfect for precise trimming and cutting when taking care of your lawn and flower beds.
One of the highlights of this pair of shears is its compound lever technology, providing greater cutting power for more grass in one press than most traditional shears.
However, one feature that some may find difficult to use is its locking mechanism when it's not in use. Overall, lefties, in particular, will find this pair to be lightweight, and with a comfortable, non-slip PVC grip handle, very easy to control.
Pros
Works for both right and left-handed people.
Lightweight, and highly durable.
Strong, serrated blades for more precise cutting.
Compound lever for more powerful cutting.
Cons
The locking mechanism may be too tight for some to use and will need to be manually readjusted.
Fiskars 92146964J Swivel Soft Touch Grass Shear
With this Fiskars Swivel Soft Touch grass shear, you can easily snip back unruly grass missed by the lawn mower. The tool's versatility means it can be used even on sloped terrain to edge and top grass. For precise and efficient cutting at any angle, the stainless steel blade rotates 360 degrees, requiring only positioning and locking before use. This makes it work just as well for lefties as it does for righties. The 4.5 inch blades cut to the tip without jamming or sticking.
This ergonomic handle has a lightweight loop design that prevents your fingers from slipping, so you can handle the tool with greater control and safety. During non-use, the blade is protected from the user by a thumb-operated easy-open lock. While the blades are made of precision-hardened stainless steel, the body is made of a strong composite of nylon and fiberglass. It weighs only 0.5 pounds, so you can use it throughout your yard without strain.
Pros
Suitable for right and left-handed users.
Lightweight shears.
Cutting is smooth and clean.
Allows you to work at all angles for hard to reach edges and corners.
Cons
Easy to accidentally push on the button if you're working with gloves.
Left Handed Weeder
A weeder is a tool used to cut and remove weeds from lawns. They are designed specifically for this purpose and come in multiple designs. Regular weeders like the cape cod or double prong weeders are typically designed to suit only right-handers. Some are made to be curved in one particular direction, and some are filed or serrated only on one side. These features determine whether they are for lefties or righties, and are almost never made to accommodate both.
Lefties will struggle cutting weeds if they use right-handed angled weeders (commonly used), as the blade is curved and sharpened against them. This is why there are left-handed weeders, now designed particularly for lefties.
Here's a look at some of the best left-handed weeders available.
DeWit Left Hand Cape Cod Weeder
A cape cod weeder is simply a curved blade attached to a wooden handle used to cut weeds from the roots with efficiency, whether it be from your lawn or small cracks in a walkway. DeWit's Cape Cod weeder, comes in 2 forms for lefties: short handle grip, and drop handle grip.
The short handle cape cod is a weeder with a boron steel blade that has been heat-treated for maximum durability. The blade is curved to the right for left-handed use. The ash hardwood handle comes well gripped and is slightly bendable when working with tough weeds. Lightweight yet very strong, lefties need not worry about its structural integrity no matter the strength of the weeds.
The longer drop grip handle is as efficient and durable when removing weeds from the roots while standing. This weeder is 25'' long in total, which may be too short for some people to be weeding while standing.
Pros
Highly durable.
Bendable, but strong handle.
Lightweight.
Cons
Drop grip handle is too short for tall people to be used standing.
HACHIEMON Japanese Weeding Sickle Nejiri Gama Left-Handed Version
With a broad blade attached to a wooden handle, a Japanese weeding sickle is used to yank weeds from the surface of the ground. Its right-curved blade allows you to easily pull the selected weeds towards you to cut them off.
The Hachiemon Nejiri Gama left-handed sickle (manufactured in Japan) assists in pulling out multiple weeds at a time, as well as just a single odd weed. The blade, made from a particular formulated steel composite, is curved to the right of the handle for left-handed use and is sharp to the tip. However, the tip of the blade on this sickle tends to split open if used too harshly.
Pros
Sharp blade for tough weed removal.
Textured wooden handle for better grip and safety.
Cons
Not very durable if used roughly.
Garden Works Left Handed Angle Weeder – Classic Grip and Comfort Grip
An angle weeder is a garden tool with a serrated-edged, right-curved blade bent below the handle, meant for weeding above the soil. The weeder's end is double-pronged for prying up large weeds. It is a very easy-to-use tool that is also available for lefties with only one change; the blade is curved to the left and serrated on its right side. The Garden Works Left Handed Angle Weeder comes in 2 forms; classic grip and comfort grip angle weeder.
The classic grip features a wooden handle and stainless steel blade. It can be used to pull out weeds from lawns, or even small sidewalk cracks, as it is serrated till the end. This weeder is not very efficient at pulling weeds out from the roots and might require you to hold all weeds with your other hand as you remove them from the bottom with the weeder.
The comfort grip features a comfortable rubber handle made from over 50% recycled material. The handle has a particular texture for greater grip and is also a very durable weeder for lefties that can provide the same service as the classic grip. The comfort grip is also cheaper than the classic.
Pros
Can easily cut weeds from above dirt level.
The comfort grip weeder is very durable and cheap.
Comfort grip made using recycled material.
Cons
Difficult to pull out weeds from the roots.
Left Handed Hoe
A garden hoe is a very versatile tool used for multiple processes such as weeding, clearing soil, and root crop harvesting. It features a broad, metal blade at the end of a wooden (sometimes long) handle. It can keep your tool shed light, and be used while standing. On most types of hoes, the metal blade at the end of the handle is bent inward and sometimes leans slightly to the left to be more convenient to use for right-handers. This type does not suit a lefty's requirements and will be hard to use for them.
To suit lefties, here are some of the best left-handed hoes available.
DeWit Left Hand Dutch Hand Hoe
A Dutch hoe is one of the most common hoes used. It consists of a wide and sharp blade that is used to get the weeds from under the soil to sever the roots. The blade of a regular hoe is angled to the left for right-handed users. Whereas, hoes made for left-handed users, like the DeWit Left-Handed Dutch Hand Hoe features a blade that is slightly leaning to the right. With a crescent-shaped, hand-forged boron blade and an ash hardwood handle, this DeWit hoe is highly durable yet lightweight. It is often used to clear flower and vegetable beds from weeds. Though well made and highly durable, some may find it quite pricey.
Pros
Highly durable.
Lightweight.
Ergonomic grip.
Cons
More expensive than others.
DeWit Left Hand Japanese Hand Hoe
A Japanese hand hoe is designed with an offset, very sharp blade for the user to be able to see what it is cutting clearly. Bent at a particular angle, the blade can be used to remove vast amounts of weeds, or even weeds in small crevices and cracks.
The Dewit left-handed Japanese hoe features a strong wooden handle made of European ash hardwood, comfortable to hold for lefties. The double-sided blade, made of a single piece of metal, is very sharp (factory-sharpened) and ideal for weeding. It is also a lightweight hand tool. However, one should be careful when using it due to its blade, which is sharper than contemporary hoes. The length of the handle may be too short for some to cover large spaces of weeds at a time.
Pros
Highly durable.
Very sharp blade makes cutting weeds easy.
Cons
Handle might be too short for some uses.
Left Handed Garden Knife
A garden knife or sickle is a tool used for multiple gardening purposes, such as harvesting and weeding. Though they mostly serve the same purpose, the blade design of sickles varies, with some having hook-like blades and some with straight blades. The straight blade knives can be used by both right and left-handers, whereas, the curved blade type is commonly designed only to suit a right-handed user due to the left-curved blade.
However, there are garden sickles designed specifically for left-handers. Here's a look at a couple of garden knives that are sure to meet your gardening needs.
CIELCERA 12″ Hori Hori Garden Knife
A Hori Hori knife, commonly known as a weeding knife, is a multipurpose gardening tool with a serrated blade that can be used for weeding, digging, and transplanting. The Ceilcera Hori Hori knife for left-handers features 2 usable sides; a serrated right edge, and a smooth, sharp left edge. It is designed to be used by lefties with the convex side facing outwards. Its thick blade is made of 420 stainless steel, polished for high durability and rust resistance. One side of the blade features gradation markings to measure the depth of the soil when planting.
The full tang wood-sided handle features a protective guard at the end of it to protect your hand from sliding to the blade. Along with the blade, Ceilcera also accompanies this product with a diamond sharpening rod and a thick leather sheath for the blade. Overall, this is an ideal tool for nearly every garden activity, making it one of the best left-handed gardening tools.
Pros
High-quality blade.
Depth measurement markings on the blade.
A sharpening rod and leather blade cover are included.
Cons
Its wooden handle pieces may eventually get loose after some use, exposing sharp edges of the full tang handle. This can be tightened and fixed.
Hounen Japanese Gardening Sickle Thick Blade-Left-Handed Nejirikama
A Nejirikama (twisted shank weeder) is a Japanese sickle designed primarily to remove weeds from the roots, but can also be used to loosen the soil. The Hounen left-handed Nejirikama is manufactured in Japan and features a high quality, Japanese forged high carbon, half crescent-shaped steel blade with a sharp edge, to make multiple gardening tasks seem effortless. The angle of the right-curved blade also makes this tool convenient for activities like weeding from the roots and soil loosening. Lightweight yet sturdy, this garden sickle features a comfortable, 10.5 inch long wooden handle, making it very easy for lefties to use. 
Pros
Lightweight and sturdy.
Multipurpose garden tool.
Very easy to use.
We hope this helps you grow your collection of left handed tools and supplies for your garden so that you can start or continue your gardening journey!